Quality in construction means that projects are finished within the guidelines established by the Scope of Work. Finishing the project on time, meeting the requirements of the agreement and staying within budget are all essential aspects of quality management.
Quality control measures are an option for construction companies to ensure their projects run to the highest standards with the correct and best-performing equipment.
Factors affecting the quality management system in construction:
Low quality material
Poor project management
Miscommunication between teams
Failure to document changes and practices
A case study on one of the structural elements (Column)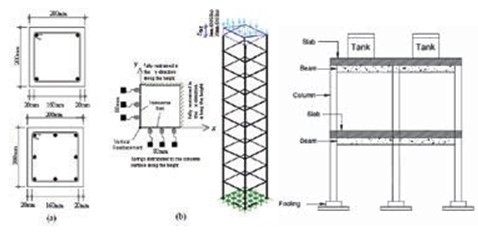 Fig A                                                                                              Fig B
A column is generally a vertical member which transfers the load to ground through footing five stages of Quality checks on the column:
Checking the column layout and
Checking the column reinforcement
Checking the column shuttering
Checking the column concreting
Checking the column de-shuttering.
Column reinforcement should be fixed and checked, then the shutter be fixed and checked.
Checks for reinforcement:
The reinforcement steel should be free from any loose scale, rust or oil.
Main reinforcement and the ring/Stirrups should be cut and bent as per the required length; this has to checked against the drawing.
Binding wires used should not protrude into cover zone.
Hook angles should be 135o this is very important from seismic consideration.
Lapping should be provided in the central half of the member length and lap length should be 45D or as specified.
Mill test certificate detailing the physical and chemical properties of the steel.
Column Shuttering:
Shuttering should be properly aligned to its verticality and diagonal.
Dimensions are to be checked
The gaps b/w the joints of shutter to be sealed to prevent the leakage of slurry.
Cover should be minimum 40mm unless otherwise specified.
Column concreting:
Grade of concrete as per the design mix.
Height of Pour
Slump and temperature check
Sampling of cubes for density & compressive strength testing.

Author: Solid Base